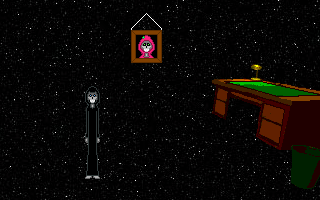 The Repossessor by Dave Gilbert is the ninth game in the Reality on the Norm series. It is a point and click graphical adventure game in the Adventure Game Studio engine, released on 26th August 2001. An updated version by Dylan Downing was released on 27th November 2014, containing redrawn backgrounds, sprites and rearranged music, along with better compatibility for modern systems.
Synopsis
Edit
Death is tasked by "The Powers That Be" to find and reclaim the soul of Michael Gower.
<tba>
Characters
Edit
Playable
Edit
Featured
Edit
Crazy Homeless Weirdo
Davy Jones
George Watstatt
Michael Gower
Phil Nihilist
The Chicken
Locations
Edit
Municipal Centre (exterior)
Featured
Edit
Dayist Church (exterior)
RON Sign
Scid's Backroom
Scid's Bar
Scid's Alley
Town Square
Yahtzeebrand Store
Continuity
Edit
External Links
Edit
Community content is available under
CC-BY-SA
unless otherwise noted.