What is this place?
[
]
An information resource for Reality on the Norm, an ongoing collaborative storytelling project encompassing games, artwork and written stories. Containing character bios, game summaries, locations, maps, timelines and more!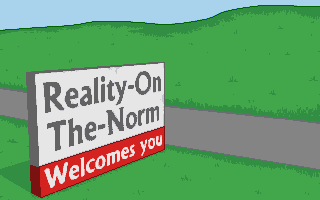 Okay, so what is Reality?
[
]
It's not as if it's a question that hasn't been asked before...
The RON game series formed when some members of the AGS community decided to do a group project - although RON can best be described as a concept, rather than as a project in itself. It involves the creation of a central environment - in our case, the Reality-on-the-Norm town. Each member of the team creates his or her own game as a chapter to be added to all the previously achieved ones, thus creating a collective and diverse "book" of several independent yet coherent chapters.
Can anyone contribute to Reality? Yes. The Reality-On-The-Norm universe is open to anyone and everyone, the more the merrier as they say. Since 2001, the year of the first RON game, we've had many people involved in the projects, some who may contribute just a single piece of art to those who have added many stories into the Reality universe.
If you want to get involved first check out the F.A.Q. There's also resources to get you going in the Resources section, along with advice from the forum users in its own separate board on the official AGS forum. If, on the other hand, you only want to experience Reality through the games then you can download them here.
Whichever you do, Happy Reality!
Links
[
]
Discussion Board on AGS Forums
Latest activity
[
]
Photos and videos are a great way to add visuals to your wiki. Find videos about your topic by exploring Wikia's Video Library.